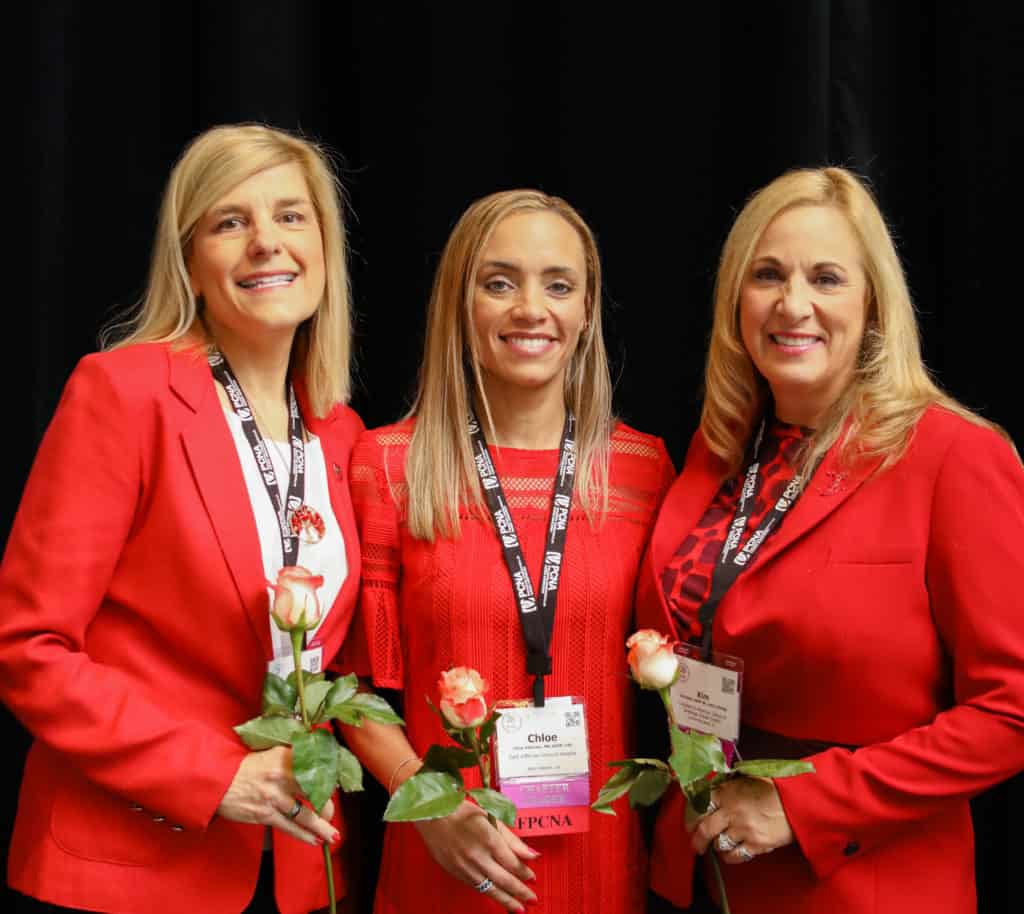 Recognizing Excellence in Leadership
Fellowship with the Preventive Cardiovascular Nurses Association provides a means to recognize and award excellence in leadership within and volunteer service to the organization.
Award
PCNA Fellows are recognized in the Journal of Cardiovascular Nursing, acknowledged at PCNA's Annual Cardiovascular Nursing Symposium, receive free registration to the Cardiovascular Nursing Symposium, and will be entitled to use the designation of Fellow of PCNA (FPCNA). This designation reflects not only the professional stature of the Fellow, but also his/her record of valuable service to the association.
Criteria
Be nominated by a current PCNA Fellow
Be an active member of PCNA for at least 4 years
Attended at least one PCNA Annual Cardiovascular Nursing Symposium within the last 2 years
Be an active participant on committees of PCNA, involved in the development of PCNA educational projects, and/or demonstrate other involvement in CVD prevention
How to Nominate
Complete all questions in the award nomination form.
Upload the required supporting documents. Applications that do not contain these items will be considered incomplete and will be returned.

Two letters of endorsement: one from a PCNA Fellow and one from a current PCNA member articulating how the candidate meets each of the stated criteria.
A biosketch (250 words or less) that describes the candidate's clinical and/or scientific interests and, very importantly, all contributions and volunteer service in PCNA (A CV will not be accepted in place of the biosketch).
Nomination Deadline
Submissions open July 1. Nominations, applications, and supplemental materials must be received by December 3.
Fellowship Maintenance
All Fellows are required to maintain their membership in PCNA. If membership lapses, the Fellowship status is suspended and should not be used going forward.
PCNA Fellows
2020/2021
Laura Vanbrocklin, DNP, FNP-BC, APRN, RN-BC, CHFN
Erin Ferranti, PhD, MPH, RN, FAHA
Sherry Donaworth, DNP, ACNP, FNP
Debra Moser, PhD, RN, FAAN
Keith Ferdinand, MD (Honorary)
2019
Chloe Villavaso, MN, RN-BC, APRN, ACNS-BC
Roxanne Wimmer, RN
Kim St. Clair Seals, ARNP-BC, AACC
2018
Susan Halli Demeter, DNP, RN, FNP-BC, CLS
Lisa Maher, DNP, ARNP, FNP-BC
Yvonne Commodore-Mensah, PhD, RN
Heather Harker Ryan, PhD(c), MS, RN
Elena Flowers, PhD, MS, RN, CNS
Barry Franklin, PhD, FACSM, FAACVPR, FAHA (Honorary)
2017
April Bramini, ANP-BC
Eileen Handberg, PhD, ARNP-BC, FAHA, FACC
William Haskell, PhD (Honorary)
2016
Emily Jones, BSN, PhD, RNC-OB, FPCNA
Cheri Nichols, RN, BSN, FPCNA
Jennifer Tennant, M.Ed., RN, FPCNA
Melanie Turner, BSN, RN-BC, FPCNA
Sidney Smith, Jr. MD (Honorary)
Meg Heim, RN, MAS (Honorary)
2015
Leslie Davis, PhD, RN, ANF-BC, FPCNA
Jo-Ann Eastwood, PhD, RN, CNS, FPCNA
Sally Foland, BSN, RN, MSOL, IA, BCCL, FPCNA
Catriona Jennings, PhD, BA, RN, FPCNA
Barabra J. Riegel, DNSc, RN, FAAN, FAHA, FPCNA
Wendy Wray, RN, BSN, MSN, FPCNA
2014
Sandra Dunbar, BSN, MN, DSN, FPCNA
Carol D. Marsh, DNP, RN, CNP, FPCNA
Marcia Murphy, DNP, ANP, FAHA, FPCNA
Sue Wingate, PhD, RN, ANP-BC, CHFN, FAHA, FPCNA
Jessica Zweifel, DNP, RN, CNP, FPCNA
2013
Kathleen Byrne, BSN, MSN, CRNP, FPCNA
Calinica (Lynn) Caudilla, BSWED, MSN, RN, FPCNA
Lynn Cofer-Chase, MSN, CLS, RN, FNLA, FAHA, FPCNA
Judith Collins, MSN, APRN-BC,CVN-BC, CLS, FPCNA
Patricia Davidson, RN, BA, Med, PhD, FPCNA
Vivian Low, MPH, BSN, RN-BC, FPCNA
Vanessa Milne, MS, RN, FNP, CLS, FPCNA
Angela Stewart, ACNP-BC, MSN, CRNP, FPCNA
2012
Susan Bush, RN, FPCNA – North Colorado Medical Center
Karen Grindstaff, MSN, FNP-BC, FPCNA – Charles George VA Medical Center
2011
Irma Ancheta, PhD, RN, FPCNA – University of North Florida
Catherine Christie, PhD, RD, LD/N – University of North Florida
Emma Groethe, MSN, CNS, CNP, FPCNA – Minute Clinic
Adina Gutstein, MSN, CRNP, FPCNA – Cardiovascular Medical Associates
Lori Neri, MSN, CRNP, FPCNA – The Heart Care Group
Shay Schroetter, MSN, CNP, FPCNA – Minneapolis VA Medical Center
Nanette Wenger, MD, FPCNA (Honorary) – Emory University School of Medicine
Marsha Wineland, BSN, MSN, FPCNA – Northeast Ohio Cardiovascular Specialist
2010
Jerilyn Allen, RN, ScD, FAAN, FPCNA – Johns Hopkins University School of Nursing
Nancy Artinian, PhD, RN-BC, FPCNA – Wayne State University, College of Nursing
Brenda Remmenga Avery, RN, BSN, FPCNA – Self-Employed
Janie Baranyay, RN, MSN, FPCNA – Adult Nurse Practitioner
Kathy Berra, MSN, ANP-C, FAAN, FPCNA – Stanford Prevention Research Center
Pam Belfiore, ADN, BS, FPCNA – Robinson Memorial Hospital
Lynne Braun, PhD, CNP, FAHA, FAAN, FPCNA – Rush University & Heart Institute
Mary Ann Champagne, MSN, CNS, FAHA, FPCNA – Stanford University Medical Center
Lola Coke, PhD, APRN-BC, CNS, FPCNA – Rush University College of Nursing
Cheryl Dennison, ANP, PhD, FPCNA – Johns Hopkins University, School of Nursing
Joan Fair, PhD, ANP, FPCNA – Stanford Prevention Research Center
Barbara Fletcher, RN, MN, FAAN, FAHA, FPCNA – University of North Florida
Meg Gulanick, PhD, APRN, FAAN, FPCNA – Loyola University
Laura Hayman, PhD, RN, FAAN, FPCNA – University of Massachusetts
Suzanne Hughes, RN, MSN, FPCNA – Preventive Cardiovascular Nurses Association
Laurie Kopin, ANP, MS, FPCNA – Strong Hospital Cardiac Rehabilitation Center
Sandra Kreul, ARNP, MSN, FPCNA – Benedict S. Maniscalco, MD
Cindy Lamendola, MSN, ANP-CP-BC, FAHA, FPCNA – Stanford University School of Medicine
Maria Lira, RN, FPCNA – Hospital FACH, Clinica Las Condes
Donna Louie, BSN, FPCNA – Cardiac Therapy Foundation
Janet Long, MSN, ACNP, CLS, FAHA, FPCNA – Rhode Island Cardiology Center
Jill Lucca, RN, MSN, CNP, FPCNA – St. Mary's Medical Center/ Duluth Clinic
Carol Mason, ARNP, CLS, FAHA, FPCNA – LifeLink Healthcare Institute
Jan McAlister, MSN, NP-C, CLS, FPCNA – Cardiology of Georgia
Nancy Houston-Miller, BSN, FAHA, FPCNA – Stanford Cardiac Rehabilitation Program
Kim Newlin, RN, CNS, NP-C, FPCNA – Sutter Medical Group
Joyce Ross, MSN, CRNP, CS, CLS, FPCNA – University of Pennsylvania Health System
Judith Schipper, MSN, NP, C, CLS, FPCNA – New York University
Joanna Sikkema, MSN, ANP -BC, FAHA, FPCNA – University of Miami, School of Nursing
Eileen Stuart-Shor, NP, PhD, FAHA, FPCNA – University of Massachusetts
Terry Thomas, RN, MSN, FPCNA – Berkeley Heart Lab
Deidre Warren, RN, BSN, FAACVPR, FPCNA – Kaiser Permanente
Robin Wedell, RN, BSN, FPCNA – Cardiac Therapy Foundation
Jane Nelson Worel, MSN, APRN-BC, APNP, FPCNA – Meriter Heart Hospital
Kathleen Zarling, MS, BS, FPCNA – St. Mary's Hospital